I took a break from the mounds of rice I've been immersed in to move on to some other gifts. These are for JD's work Christmas party this week so I had to get them done. (and I'm pleased to announced they are done ahead of time, no last minute rushing. Woo Hoo for me!)
There's not really a Christmas gift exchange at JD's work. In fact, last year the only people who gave gifts besides us was the Chief and Assistant Chief. With there being 24 people to give to, we have to keep costs pretty low. Last year we spent an average of $2.50 per person. This year I was able to top that at...drumroll please... 20.8 cents a person. Can I get another Woo Hoo for me?!
With that in mind, I have to give you this disclaimer: These are meant to be very small tokens, gag gifts. Not
real
gifts. Not anything fancy by any means. K?
I purchased one box of ornaments at Wal-Mart. It is the box of 24 for $5.00. They were the gold "shatterproof" (aka plastic) ones. That $5.00 was my only expense for these gifts.
I removed the hanger hooks from them and painted them with Kilz primer. Here they are with one coat of primer. You can see that I used clothespins to hold them by the knobs at the top while I painted them. Didn't work so well.
Then I had the brilliant idea of putting them on skewers (putting the skewer through that hole in the top). I held each one up and spray painted it white. Then I stood them up in styrofoam to dry.
(JD retrieved 5 of these styrofoam strips for me from a garbage bin at a construction site the week before last. "Why do you want them", he'd asked me. "I don't know, just get them for me. Never turn away perfectly good styrofoam. It'll come in handy some day", had been my answer. And here we are.)
Next I put a unique saying on each ornament. Some I painted; most I just used black Sharpie marker. The sayings are all suited to each person's interest or personality and they're all tongue-in-cheek. I'm not going to post them all, but here's the Chief's: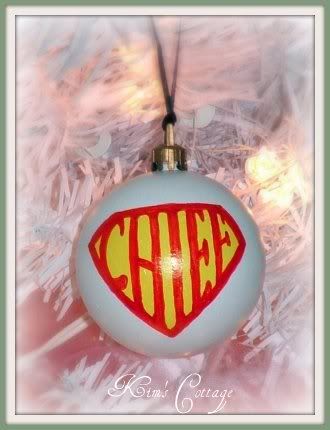 See the black ribbon the ornament is hanging from? Well, last year after Christmas I had purchased some crystal ornaments on clearance. The problem was the ornaments hung from black ribbon, which would never go with my decor. So I removed the ribbons and replaced them with more appropriate colored ones. Here is one next to Chief's ornament on the Teacup Tree:
When I took those black ribbons off the crystal ornaments, well, you know where we're going with this. I saved them. Never turn away perfectly good ribbon. Of any color. It'll come in handy some day. And here we are....again.
I pulled out some craft/lunch bags I had left over from my daycare art supplies and -viola!- instant wrapping. Here they are, all dressed up and ready to go to the party.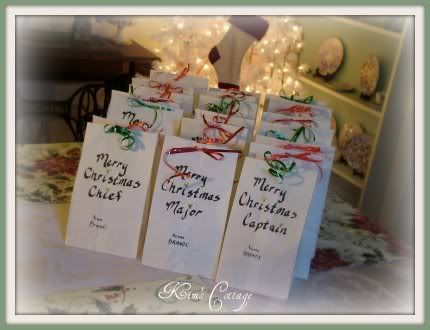 Moral of the story? I found a way to make 24 gifts for just $5.00. (One last Woo Hoo for me, please? LOL) If I'd used pretty pastels, glitter, lace, rosettes or pearls, they could have been oh-so-sweet. As it is, they suit their purpose perfectly. And they suit my budget even better.