So many of you have been sharing the touches of Autumn around your homes, I figured it was high time I joined in with a few pictures of my own.
(as always, you can click on each picture to enlarge)
Usually I put out my Fall decorations the beginning of September, then change over to Halloween the first of October. But since I was so tardy in decorating this month, I decided to combine the two this time around.
Autumn and Halloween decorations don't go with my decorating style at all. But many of the decorations I have were given to me by dear friends or loved ones, so they mean a lot to me.
The three lighter ceramic pumpkins I picked up at an antique mall a few years back. I thought they would go well with the medium sized one my granddad had painted. Until I got them home and realized they don't match at all.
My granddad's hobby was to paint ceramics. I have several of them in my home. Most of them do not go with my style, but I cherish them all because they came from his heart. They are the only things I inherited from my beloved granddad; I will never let them go.
The darker, medium pumpkin here is one of those things. It's been broken a few times over the years. Each time I shed a little tear and then set to tediously gluing it back together.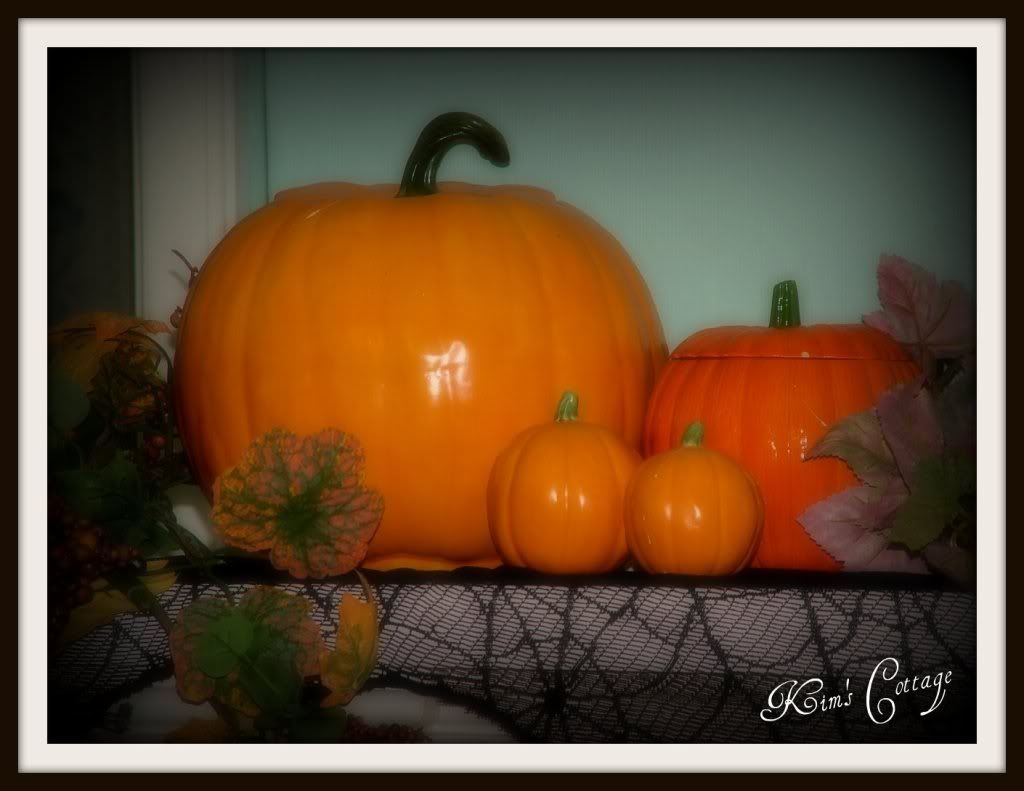 The ghost standing centerstage on my mantel came from one of my great aunts after she passed away. I believe my granddad painted it and gave it to her, as he gave his creations as gifts to family members often. It has a hole in the back to slip a little lightbulb inside, but I've never added one.
On the mirror shelf above the mantel are a Frankenstein birdhouse on the left and jack-o-lantern birdhouse on the right. They were made for me by a dear friend who was also our next door neighbor in our old house.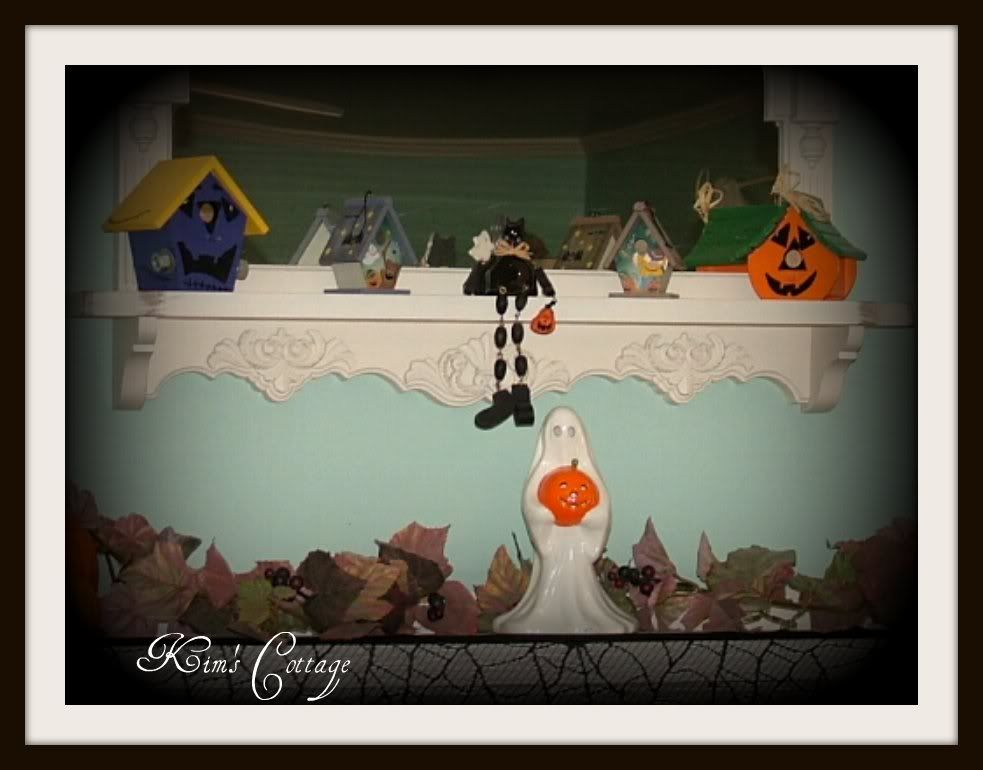 This scarecrow leaning against a tree is another ceramic hand-me-down. I don't think my granddad painted this one, as the painting style is not his. But still I keep it because it was handed down to me by loved ones who are no longer with us. It has holes in the scarecrow's eyes, owl's eyes, the tree stump's eyes, and the jack-o-lantern's eyes. There is a red light inside which make all the eyes glow.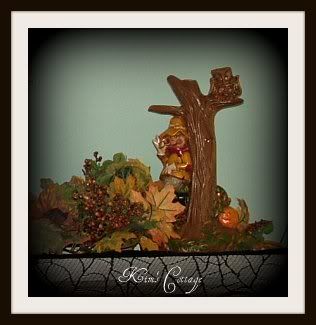 The shadow box in the living room wall is decked out for spookiness as well. (Forgive the flash. It's really hard to get a picture without the flash reflecting off the mirrors inside)
I love LOVE my shadowbox and change its motif often.

Another view, as seen from the hallway.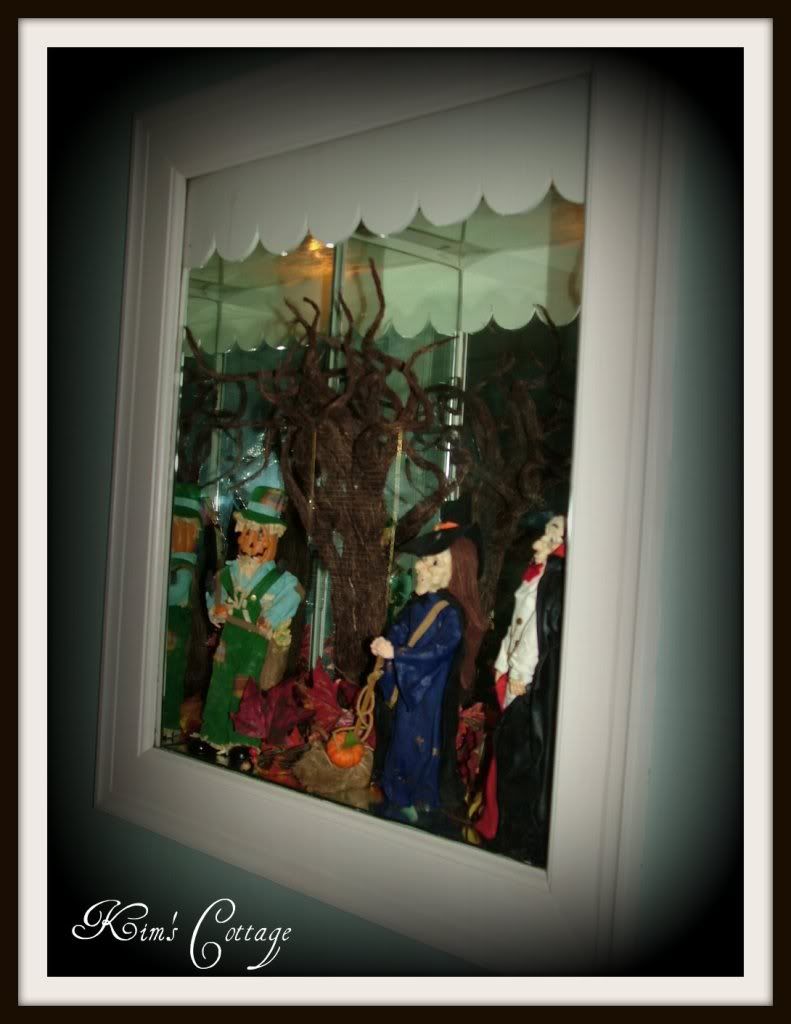 The terrifying trio and creepy tree were given to me by my mother.
I believe she said she got them at Hobby Lobby.

I think this little guy is just adorable. My mother painted him many years ago and he always gets top billing on our coffee table (which isn't a coffee table at all. It's an antique hope chest passed down from my grandparents).

I like the softer, more muted colors. And the way she did a rubbed effect in the creases and crevices, giving this cute little spook a more "shabby" look.
Who wouldn't fall in love with those droopy eyes?