Welcome to my second
Pink Saturday
, graciously hosted by Beverly at
How Sweet The Sound
. There are a lot of participants and it does take a while to get to everyone. Oh, how it is worth it, though. Thank you all so much who visited and commented during my inaugural
Pink Saturday
last week. I'm meeting so many lovely, talented ladies. It truly has been a great joy for me.
I've harped quite a bit on my bathrooms this week. Personally, I'm ready to move on to other subjects. But since you've spent so much time in this little room with me the past few days, I thought this might be a good place for us to end the week.
For those who've been following my bathroom progress, you may have noticed it used to have a Seashells By The Seashore kind of theme before. That is long gone.
Now it's all coming up roses. Here are a few of the things that surround the
sink table that I built
.
I bought this framed rose print on
eBay
.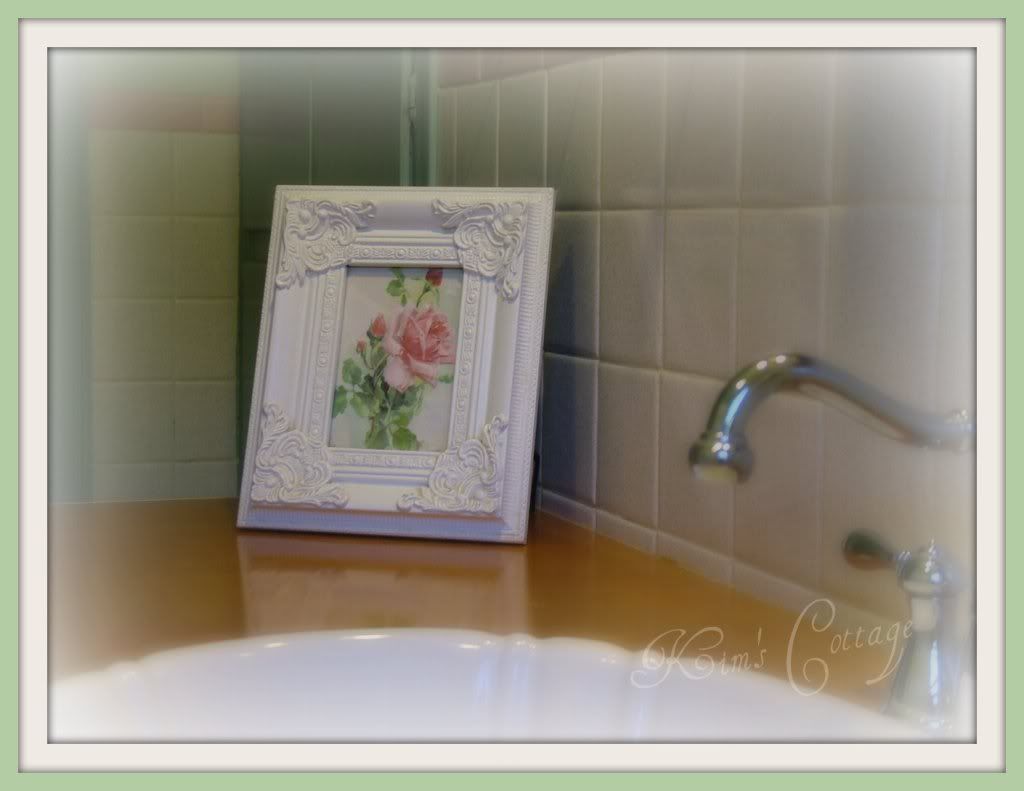 I think I bought this trio at Hobby Lobby. I originally thought they'd be good to hang washcloths on. But it turns out they're not real sturdy. I think they'd look sweet with a pearl necklace or a heart shaped sachet or something hanging from the hooks. What do you think?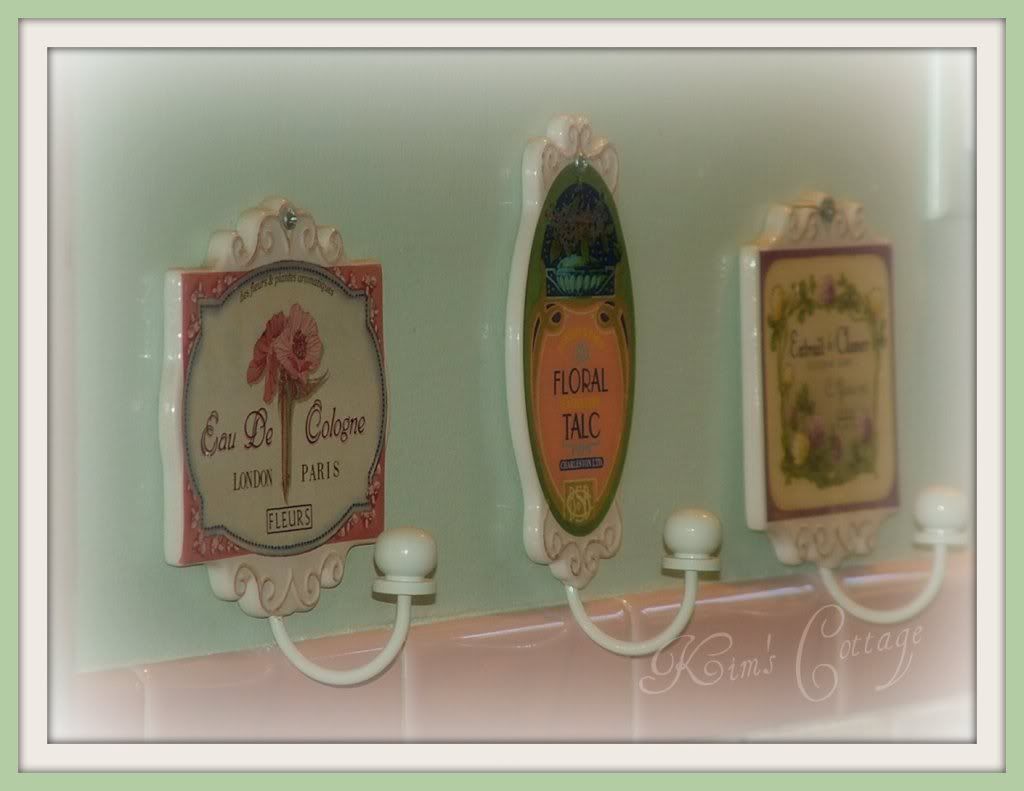 Two things
every
room of a house should have: a clock and a box of tissues. I inherited this clock when my great aunt passed away. Someday I'll have to show you what it looked like when I first got it. It's come a long way, baby!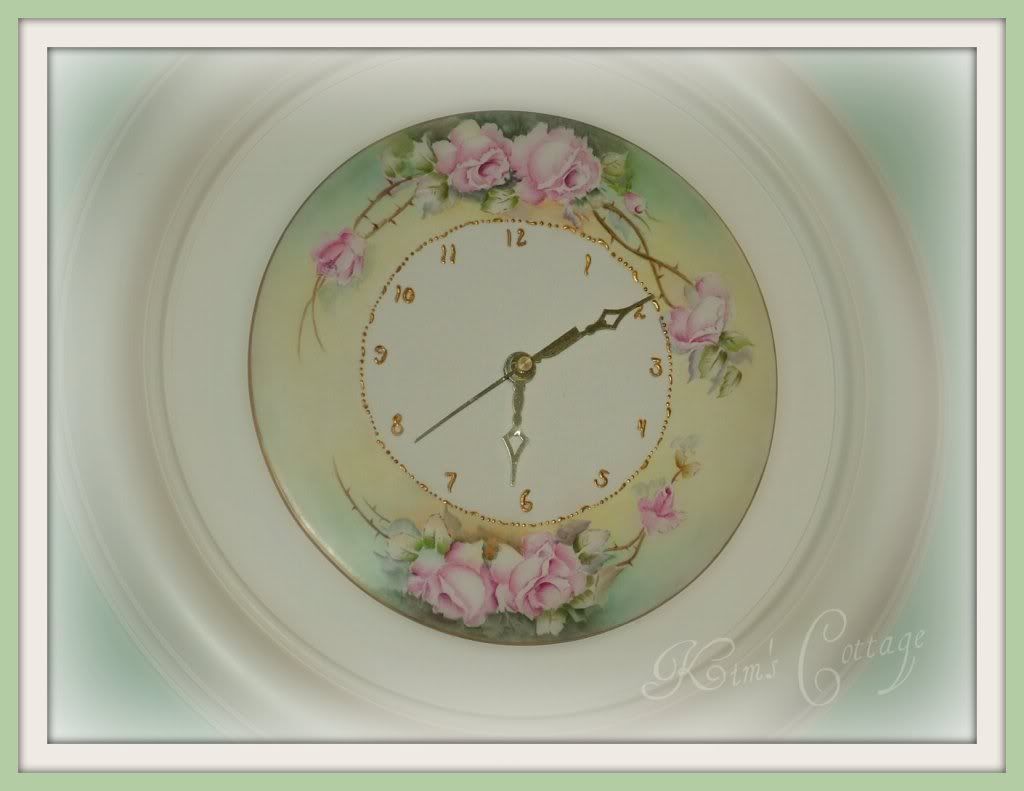 I purchased this little cart on
eBay
when I built the sink table. I wanted something pretty to store our "essentials" under the sink, close to the toilet. It has just the tiniest little pink bow. What I really love about it is the eyelet. I'm a sucker for eyelet.
Yet another
eBay
find. This adorable set of towels came from a mother/daughter pair of sellers. Sure wish I could remember who they were. I'd love to buy more from them.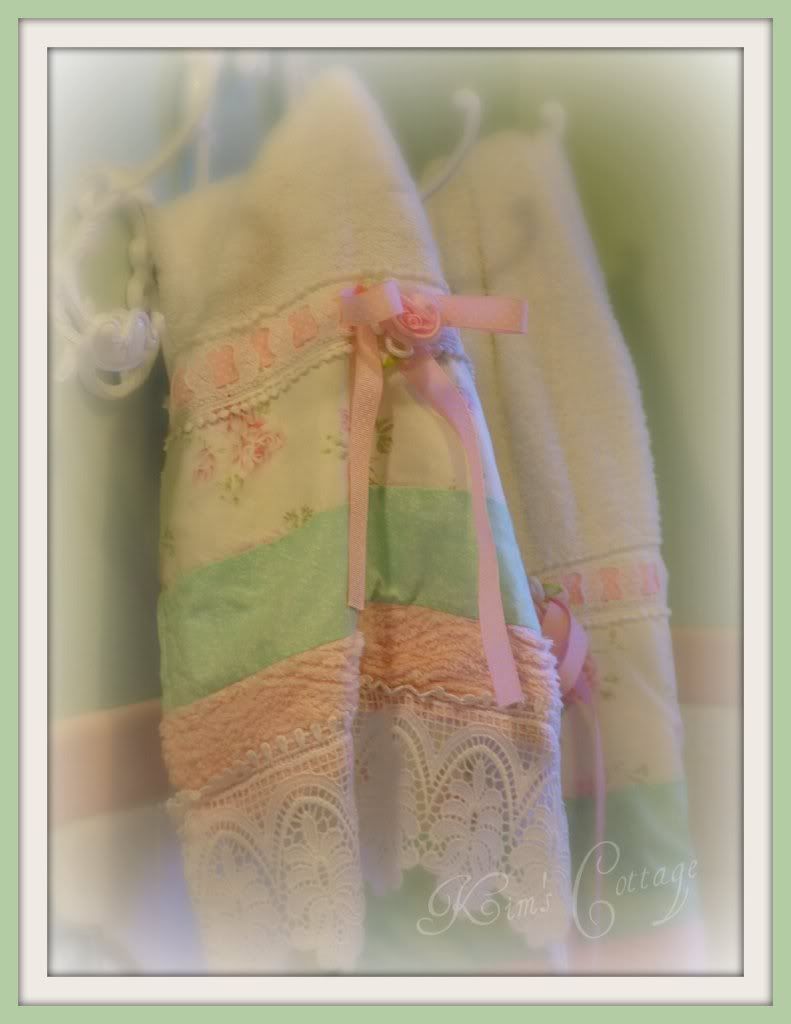 There's a lot more I could share. But I decided to keep it simple today with just a few pictures because I really do feel like I'm beating this poor bath horse.
Thank you for stopping by. Now please, come on out of the commode. Let's head on over to
Beverly's
so we can see all the other pink goodies our friends are sharing today.