Lately we've been seeing a lot of creative transformations of pumpkins from run-of-the-mill orange into fantastic works of art.
We've seen Tina's white painted ones at
Cherry Hill Cottage
.
Dontcha
just love how she personalized them? And
who'da
ever thought of painting pumpkins? Too clever!
Then Donna at
An Enchanted Cottage
flew with that idea by adding family photos. How fun! I swear one day I
will
be copying her.
The fabric ones. Oh, those adorable fabric ones. I looked and looked, but for the life of me, I cannot remember who posted those. My boys would especially love those, I know. They'd become flying projectiles throughout my house in no time. If someone remembers who posted pictures of their fabric pumpkins, please do comment so I can add their link. (If I recall, they had them piled up on their couch in at least one of the pictures?)
And then the drop-dead gorgeous pumpkins Amy at
Bunny Rose Cottage
shared with us. It's been weeks and I'm
still
cleaning the drool out of my keyboard.
You all inspired me. To step out of the orange box. I thought to myself "Self, you can do this." And set off to transform a pumpkin I did.
I got a cheapo
Styrofoam
pumpkin ($3.47 at Wally World). Of course, all they had were orange, true to form.
Then I gave myself a bit of a challenge. To make this gourd look a bit more "me", BUT only using what I already had on hand. Which,
dagnabit
, meant
no
trips to the craft store looking for just the right embellishment.
I armed myself with an arsenal of scrap fabrics, ribbons, and roses. I pulled out my
weapon of mass 3rd degree burns
glue gun, commandeered the dining room table, and
got all artsy

fartsy
let the creative juices flow.
I forgot to take "During Production" pictures. So you get "After but still amongst the wreckage" instead.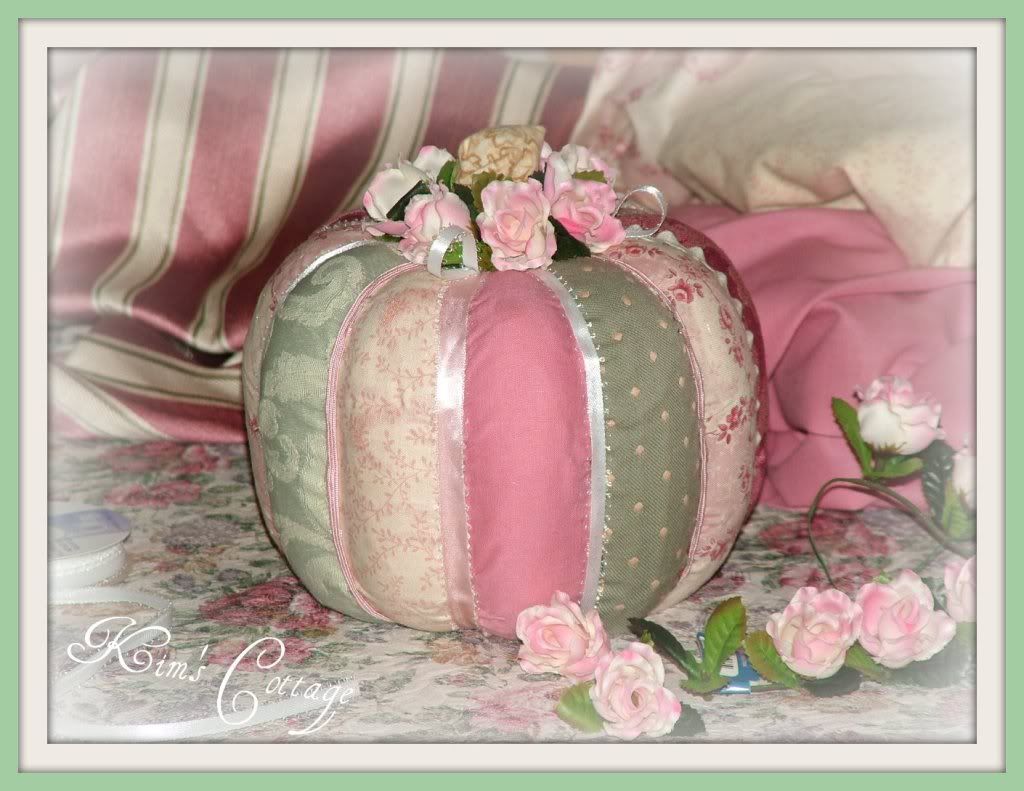 Yes, you can click on any of the photos to enlarge them. But then you can see every blessed little flaw. So, do me a favor. Don't click.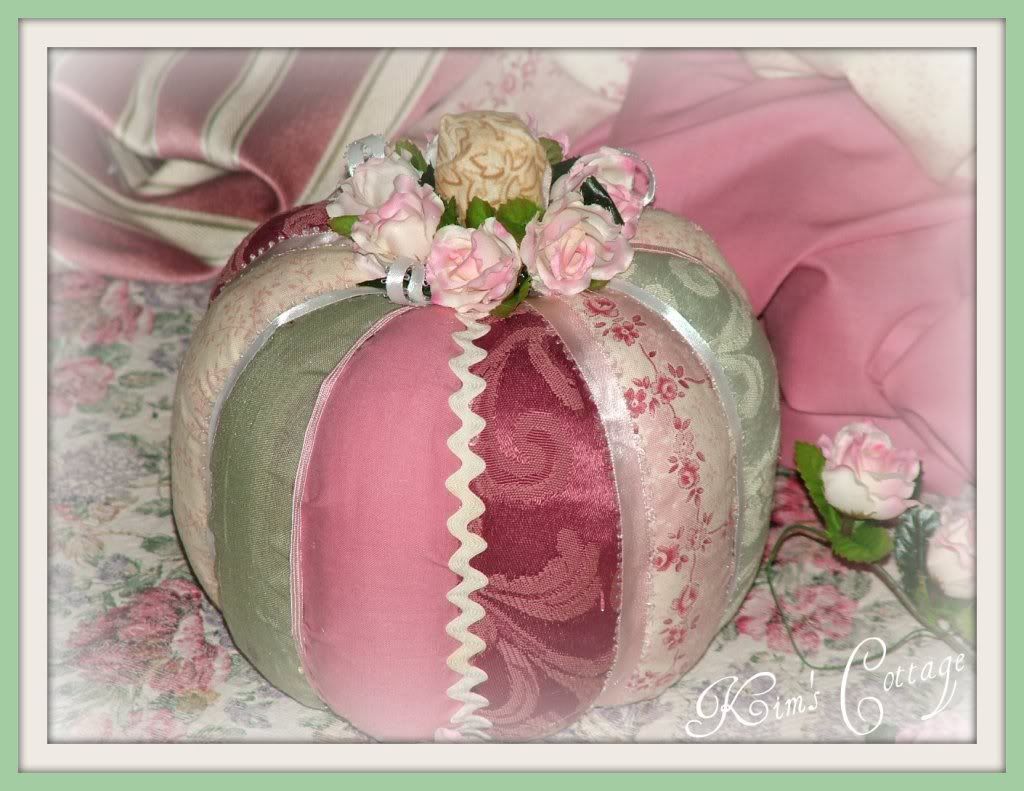 The fabric is a little puckered here and there. It was hard to get it to lay down evenly over the pumpkin shape. But I'm
ok
with that. After all, it's just a pumpkin. Not a wedding dress. Right?
I think I'd like to do more of them. Maybe add some lace. Strands of beaded pearls. Different ribbons. Maybe get better at it.
But it'll have to wait. Til the burns heal.
This is how I originally had it staged. This is on my sewing machine in the dining room. I decided it was surrounded by too many roses. Looked a bit too
Springey
, considering it's Fall and all.
I won't tell how you many times I re-staged this thing. Because it's embarrassing.
I ended up going a bit simpler. Tucked a few roses inside the base of the cake stand and put just a few beside the pumpkin. And called it good for the day.
As soon as the wind changes, I'll probably be moving it around somewhere else in the house. Re-staging once again.
Am I the only one who does that? Moves things around. Mixes and matches. Can't decide what looks quite right where. Is it just me?
And am I the only one who puts things in odd places around the house? Like the sewing machine in the dining room. (and would you believe I've got two of them in the kitchen? And yet another by the front door.) Somebody please tell me that I'm not alone in this.